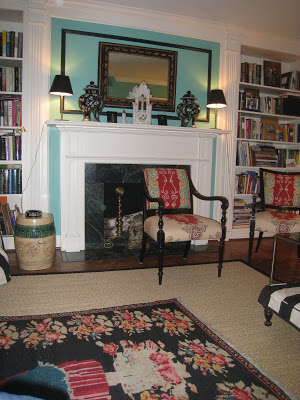 A while ago, Mr. Blandings and I were invited to a fundraising event in a private home. Once inside, someone turned to me and said, "Some house, huh? This is really something." To which I responded with a weak smile. "Aren't you impressed?" I'm always impressed when people open their homes to strangers in an effort to raise money for a good cause. But. Well, large and expensive doesn't impress me.
Last night I was invited to a dinner for a small group of women and, frankly, I don't know why I was there. These women are very successful. Very. And widely traveled. Widely. And incredibly bright. Truly. And then there was me, fresh from the carpool line. But that is neither here nor there. The story to tell was the apartment.
The apartment was stunning. And not because of the pieces that its owner had compiled, though they were compelling, but because, upon entering, upon crossing the threshold, I knew that each and every object had a story. Each piece could be remembered for what it meant, or where it was gathered, or who was there when she found it.
Personal and powerful, that is what impresses me. Really great art, personal photographs, sketches done poolside years ago and shoes from Old Navy. I could have snapped images of the entire space, but, curses, my editor was there and she got first dibs. She pays me, by the way, while the blog does not, so it seemed wise to concede.
She agreed that I could post the images once
Spaces
had published them. (Months from now, you should be grinding your teeth.) So I will wait to show you this amazing space. This amazing space which is not as extravagant as a hotel lobby, but which wears its heart on its sleeve, as does its owner whom I adore.