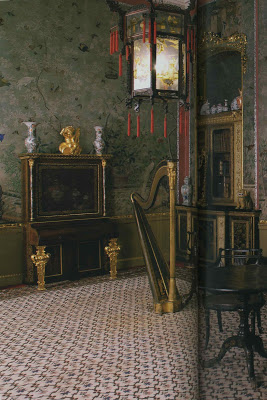 Ah-ha! This was it. The elusive image that was supposed to be yesterday's post was not in a vintage design book as I supposed, but a historic room in a new design book.
Now, you might not think that Chinese paper needed further embellishing, but Lady Hertford clearly did and I applaud her efforts. This is a handy little do-it-yourself project requiring only Kindergarten skills. Cut and paste. Everyone can cut and paste.
You could even paint a little vine. Vines are easy. A swirly line and some leaves. Cut out a few birds while you're watching TV. Easy.
Their silhouette prints would create a jazzy little print wall like the one by Parish-Hadley in this vintage photograph of a New York apartment.
Wrapping paper is another source of inexpensive images.
I think I have everything covered here, but just in case, two images, top, Regency Redux, Emily Evans Eerdmans, next three birds, Audubon, Gambrel image via Style Court, Parish-Hadley room from Albert Hadley: The Story of America's Preeminent Interior Designer by Adam Lewis, Schumacher paper, Porter and screen via Hollister Hovey, the remaining images from Natural Curiosities. And, yes, the Irish Georgian mirror is mocking me.