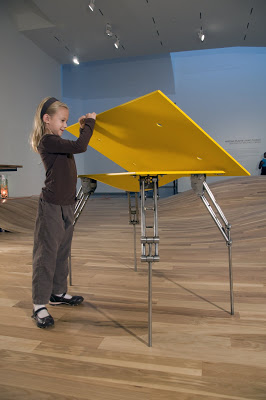 I always have a little cosmic jolt while traveling, especially by air. Even at my age it seems wonderful and shocking to get up and have breakfast one place, then pick up carpool halfway across the country four hours later. Furthering this sensation on my last trip, I had the delight of visiting the Calder exhibit at the Whitney in New York, then the distinct pleasure of a tour of the Michael Cross exhibit when I returned home at the Nelson-Atkins Museum of Art.
The Calder exhibit is still playing on a loop through my brain. I'm struck by the innovation of his work and exploration of movement in both his pieces that moved and those that did not. Calder was trained in mechanical engineering and it is fascinating to see the application of that education in his work.
With the undulating floor, Cross is exploring the idea of a room with less furniture (just in case you were thinking, "Where would the sofa go?") The wood is typical residential flooring and was manipulated by scoring the underside of the boards. No heat or water was used to create the curves. The cross section is intentional as it reveals the engineering of the structure. It's difficult to see from these images, but there are sections of the wall where Cross has taken a mold of his own shoulders and shoulder blades and inserted them into the wall at a level where he, if he were sitting on the floor, could rest comfortably.
The Growing Table, above and top, opens to reveal storage space, but can transform by height or angle to fill the need of the owner, even as the owner's needs change.
Cross's work remains at the Nelson until April 5th. You are encouraged to manipulate the pieces and see if your shoulder blades hit just the same spot as the artist's. Catherine Futter, the Nelson's Curator of Decorative Arts, will present on the exhibit February 20th at 7 p.m and February 21st at 1 p.m in the L8 gallery of the Bloch Building. Admission to the Nelson and the exhibit are free.