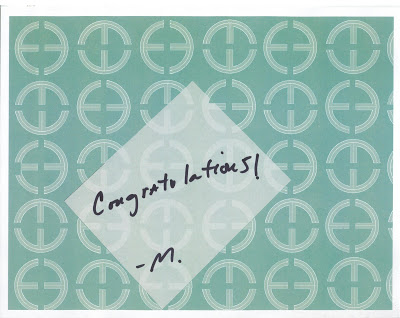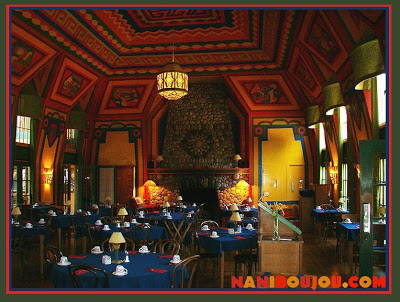 I figure since Emily & Mr. EEE spent their honeymoon amid tropical breezes, when it's time for their first long weekend out of town, they'll want a change of scenery. And pace. What could be better for that than a stay at Minnesota's Naniboujou Lodge, a secluded Art Deco gem hidden away on the shores of Lake Superior? Pine-scented breezes, sparkling blue skies, clean & cold water surround the historic lodge itself, opened as an exclusive private club a scant three months before the market crash of 1929. Inside, the décor is unlike anything I've ever seen before: a jazzy cocktail of Native American ornament mixed with the rustic architecture of the great camps of the Adirondacks, all garnished with a brilliant (& woozy) 1920s palette. I don't know what was in the illicit hooch that the designers of this place were drinking—illicit because the country was officially "dry" at the time–but it must have mighty powerful stuff, because someone clearly conjured up the Great Spirit of Sonia Delaunay.
So, what's to do at Naniboujou? Well, let's talk about golf. If Emily & her new husband love a challenging 18-hole course, well, they're out of luck. There's no golf course. Tennis? Forget it. Pool? Nope. Cute toddlers squealing with delight at big-headed cartoon characters from the movies & TV? Wrong place. In fact, the rooms don't even have TVs–or phones, so there's no internet. When the Ramey family that's run Naniboujou Lodge for twenty years calls the place a getaway, they mean AWAY. But you can eat in the beautiful dining room, you can talk, you can walk in the woods, you can sit on the shore & watch the line where the sky meets the water, then you can go back to your room and, um…nap. Basically, a stay at Naniboujou is as close to time travel as you'll ever get–a vacation as our well-off grandparents might have known it eighty years ago–which is exactly why I like it. I hope the happy couple will like it, too.
P.S. I'm hoping someone else will give the happy couple a cool Art Deco travel bar, with room for a few bottles, chunky crystal cocktail glasses & some sterling silver olive picks, because they'll need it. The place is still dry. How authentic can you get?