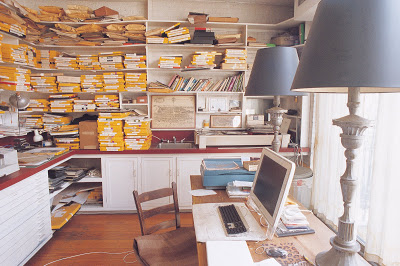 As we are moving in ten days, things here are a little upside-down. It's not a tight ship in the best of times, but now I am forgetting even regular events such as sports practices. And my anniversary. People are starting to say things like, "This just isn't like you."
Which could be a good thing. Though I've never relished nor revered housekeeping, my house is normally tidy; now it is a mess. I loathe a mess – visual clutter that reads like static during your favorite song (before there was satellite.) That said, my desk is usually piled high with several stacks of projects in the works. Indistinguishable to the unfamiliar eye there is an order only to its owner. Also, our kitchen island has always been catch-all to everyone who can reach it.
Have you ever worked retail? (I swear I'm bringing this all together, just hang in there.) I have worked a lot of retail. When you work retail you have a lot of dead time that you can't really fill like you fill dead time in an office setting. You can't wander off to get coffee or pop down to accounting to see if the asap check you requested is ready. You are stuck. If you're lucky, you're stuck at the same counter, on the same floor, in the same department with someone amusing. And if you are, you will find that you know a shocking amount about this person within about three hours.
And that is just page 44 and from that moment I knew that Carter and I would be off and running if we were stuck in handbags from 3 p.m. until 6 p.m. All good things messy are in there – dogs and kids and cooking. Her book is a compilation of images of incredibly personal homes (and no, not all are) and the thoughts of the both the owners and the author about what makes them that way.
It is significant, too, I think, that Rizzoli published it. Carter, who has been involved with advertising and publishing for Ralph Lauren for over twenty years and has authored several books, was not exactly a big risk. Still, this is not a flashy book chocked full of of-the-moment interiors. It's a thoughtful book. A book to read. A book to recommend.