I think I have commitment issues. I have a pile of pictures and swatches and tear sheet sitting on the right corner of my desk. They are right there where I could pick any one of them up at a moment's notice and fire off a purchase order. (Scot Meacham Wood can testify; he's seen them.)
I'm not floundering on selection. I'm quite firm in what I want. Even my budget says, "yes, I'd love to, when?" But instead of answering, I put David Hicks Garden Design on the top and pretend the pile is not there.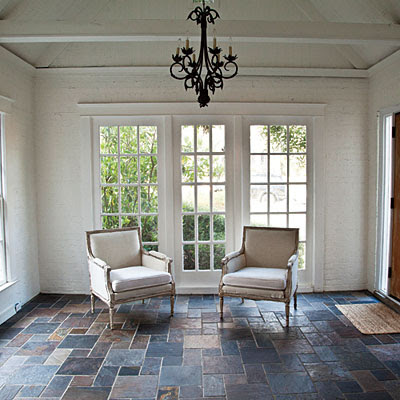 This is "before." We even have the same-ish floor.
Lindsey Ellis Beatty offered some counseling in the May issue of Southern Living (though she didn't know it.) Beatty waited to decorate her sunroom/entry with great results. I'm crazy about that Jim Thompson Bamboozle fabric at the windows; this is the first time I'd seen it in a project and it is zig-zaggy genius.
Katie Ridder, who is quite comfortable with every hue on the color wheel, is in the issue as well. (I'm sticking to sunrooms, here, perhaps because that is where I spend most of my time. Maybe that should be the place to start.) There are rattan chairs by the dozen out there just waiting for a coat of white paint to make them happy. Do.
And, best for last, a woman whose to-do list is loads longer than mine and seems to to manage with such aplomb, Erika Powell is featured as well.
The Beatty project is on-line here, the rest are in the book – on newsstands now. All images from Southern Living, May 2012, all photography by Laurey W. Glenn except Ridder's project which is by Eric Piasecki.