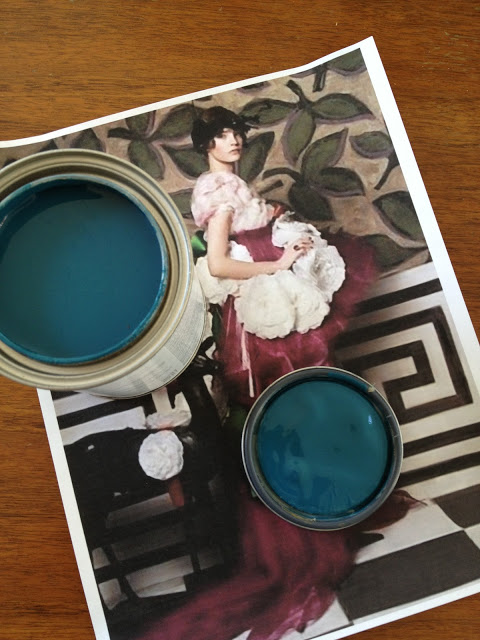 Speaking of John Robshaw, (we were, Monday – do try to keep up) I've gone back to look at the paint color in his bedroom several times. (In Elle Decor, not in Mr. Robshaw's actual bedroom, but I'm sure you got that.) It's not dissimilar to the color in his showroom the last time I was there. (And, perhaps, now, though I can't say for sure.)
I've been looking for a peacocky concoction. I keep kicking it around for my powder room, which is ridiculously large at a staggering 7'x7′. It could be a bedroom if you don't reach your hands over your head when you stretch. I first spied the image that the paint is atop on Little Augury and have carried it around in both mental and paper form since. I truly do, in every way, want to paint a Greek key dado somewhere, someway, somehow.
So that below, rich summer night sky above (ceiling, too.) Originally, I was a little worried about a color that deep in a space that large. Then there was Robshaw and his bedroom (see, I brought it back around) which seem quite happily clad.
I'd jump right in, but that pattern is going to require a little math. You know how I am about math. It may have to wait until after the holiday.
Image, Vogue, May, 2007; photography by Steven Meisel, produced by Grace Coddington, set design Mary Howard and panels by Sarah Oliphant, whom I wish I knew so she could help me measure.


Robshaw's bedroom is Benjamin Moore Kensington Blue. The paint, above, is highly evolved Benjamin Moore Galapagos Turquoise.