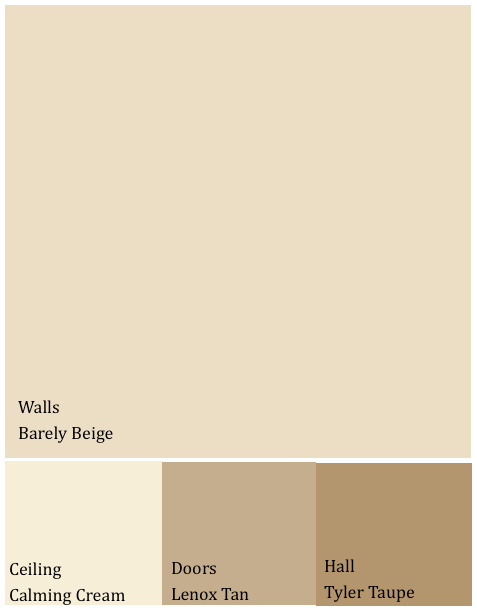 I'm following up on a few reader's questions here so there is no need to hunt back through comments. The color of that small hall is Benjamin Moore's Tyler Taupe. The painted chest in that piece was at Mission Road Antique Mall, but the dealer is Barbara Farmer who also has a shop, Parrin & Co., at 45th and State Line.
I did "Gracie" my dining room walls; you can see the results here.
And, how long did the powder room take? Hmmm… Painting the top part was easy – two hours, say. I spent long stretches over two days measuring the Greek key. Two to three hours? Likely. Then, the painting went pretty fast. Probably another two hours. (Notice how two hours measuring was long and two hours painting was fast? Life is like that.)
As far as effort in relation to results, I would say both the powder room and the dining room (and even painting the small hall twice) made more sense than the ridiculous amount of time I spent laying out these paint palettes for the rooms of my (still nameless) house. But it's rainy and my eldest has been sick since Friday and I have loads of tiresome things to do, so it was a welcome diversion.
Image, top, my master bedroom paint colors, which all happen to be Benjamin Moore.