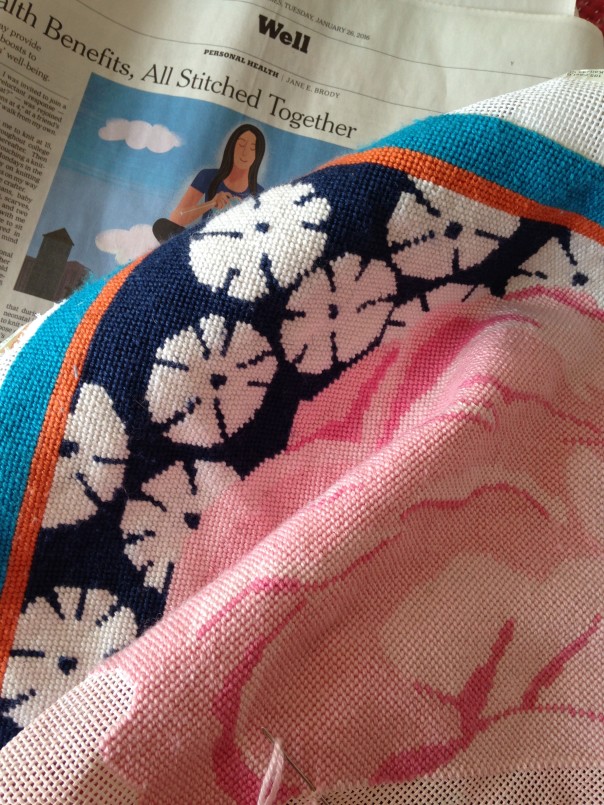 I promise this won't turn into all stitching, all the time, but there was an interesting piece in The New York Times about needlework on Tuesday. The article reinforced all that I knew to be true (even though its focus was knitting.) "The repetitive action of needlework can induce a relaxed state like that associated with mediation and yoga." "When my hands are busy, my mind stays focused on the here and now."
Many of my canvases are large. People sometimes look at the 18 x 18 square and say, "That would take me forever. Could you make them smaller?" For some of the designs, smaller does not make sense. And, truth be told, other than those that are novelty, I don't think pillows should ever be smaller than 18″ square.
But beyond that, I think the time put in should be viewed in a different way. "How long will that take you?" people ask me as they watch the movement of the needle, the canvas draped across my lap.  I could calculate it, though I never have.  What difference does it make how long it takes me to create? When I'm finished I will have something that I love for my home, or for a friend, that could last for generations.  I've made something.  I've put my heart and my time into it.  There is nothing you can do on your phone that will deliver that kind of satisfaction.
You can find the piece in the Times here.