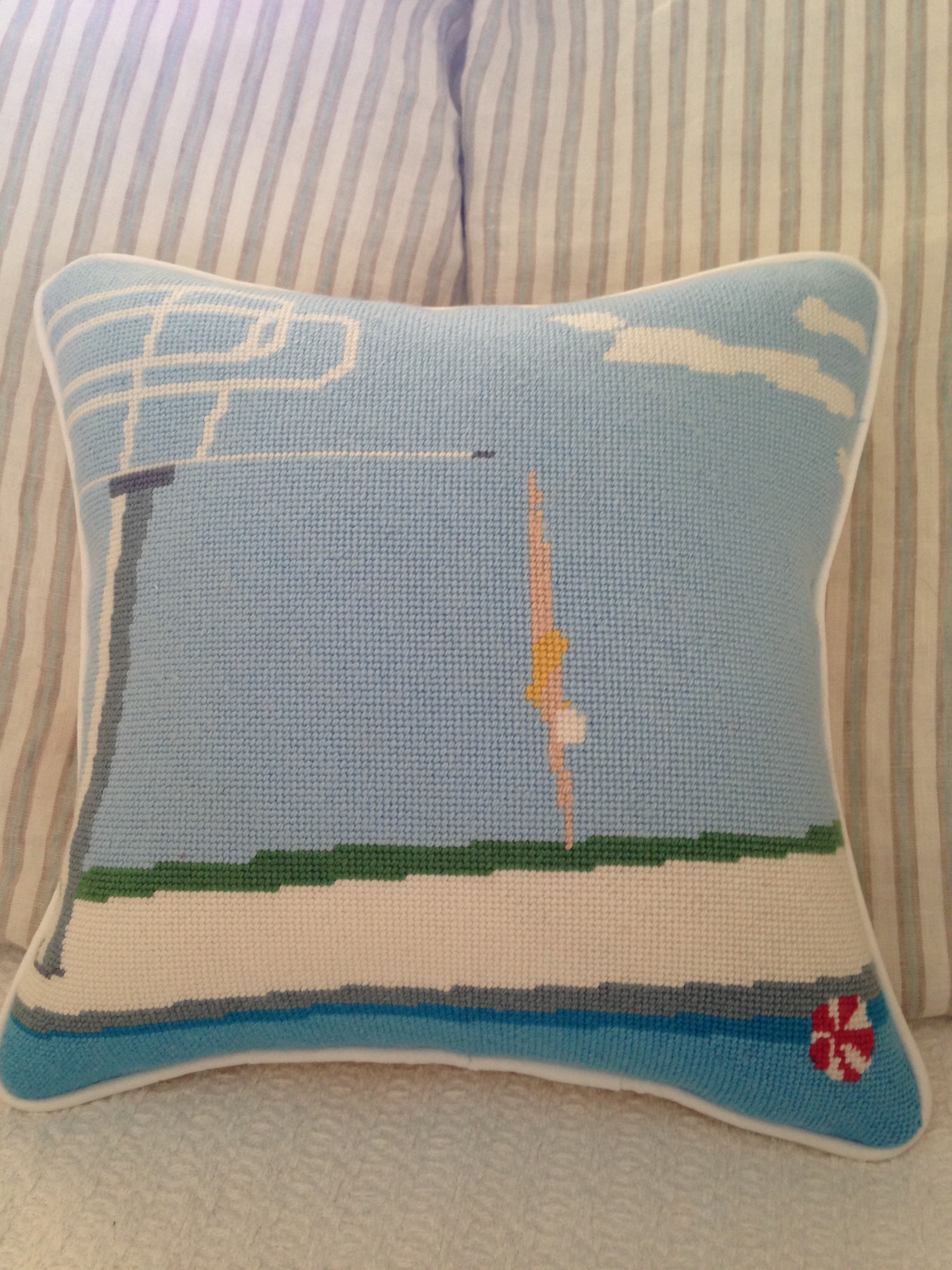 I was getting materials ready to submit orders for canvases yesterday and noticed something about this canvas that I hadn't noticed before. On the painted canvas, as is typical, I paint small blocks of color beneath the pattern so the stitcher will know what color fibers she will need. This canvas, which appears so simple, is made up of ten colors.
I've been stitching my designs to make sure that they make sense as a pattern and look as I hoped they would when they are complete. When I finished this, I had it made into a pillow, though I don't have a good spot for it. One friend who saw it said, "Oh! I want that to be a bag." I was immediately remorseful that I hadn't thought of it myself and plan to do just that.
This design is particularly personal to me.  A few years ago, late one summer night, a group of us sat around a table drinking cocktails while our children played in the pool.  Occasionally, they would climb the tall ladder of the high dive and leap off, or cannonball or pretend to run in the air.  They trembled neither from the night breeze or the long way down.
As we sat, one our friends noted that he used to go off the high dive all the time as a kid, and could not remember when or why he had stopped.  He led us further down the path of our middle age to a place where we took few risks.  What was the riskiest thing we had ever done, he asked.  The best I could come up with at the time was a long drive in a small car with four friends.  "That's not even risky," he said.  "I know," I nodded.  None of the rest of the group did much better.
It was then that he suggested that we set a date and all go off the high board.  It wasn't a dare, exactly, but I like to think of myself as something of a badass.  I hate the idea of being cowardly.  Still, I don't like heights and I don't like to get wet and I don't like to feel as if I look silly.  But I would not back down.
I would not back down, but I would not be unprepared, either.  I bought a suit that I was pretty sure would stay in place as I hit the water and sneaked up to the pool one night in order to jump without an audience.
Even night in the summer has a coolness to it, and as I slipped my cover up off, I knew I would be cold once I was in the water.  I was nervous, even though there was nothing at stake. I could back out anytime, either of practice or the actual event, and no one would care.  My friends are not bullies. But this idea of being risk averse had taken seed and I did not want it to sprout.
The steps and the handles of the high dive were cold, too and I could feel the unsteadiness in my knees as I held on and stepped up.  The thing is, it is high.  I have no reason to be on what amounts to a second story with nothing around me.  The smooth, waist high rails protected me from tragedy, but I still felt exposed and vulnerable.
What I had forgotten, is that as you walk on a diving board it moves.  So, as I walked past the edge of the platform and the protection of the rails, the board registered my step with a small bounce.  The unsteadiness was alarming.  I hesitated. My hands shook.  I knew I could do it.  The worst thing that would happen to me was that I was going to be wet.  Maybe a little winded.  Perhaps some part of my skin would sting.  But it was incredibly unlikely anything bad would happen.  I took a deep breath and stepped cautiously to the end of the board, wrapping my toes over the edge.
As I stood there, cold and knowing I was going to be colder, scared and knowing that I would be more scared, I decided to dive.  What the hell.  If I was going to do it, I was going to be all in.  I put my arms straight up over my head, wrapped my thumbs around one another as I did in yoga, leaned over, bent my knees a little and pushed off.
I was aware that I had time to think before I hit the water, "Wow, there's a lot of time before you hit the water." I hadn't really anticipated being aware of the fall.  I thought it would be dive, then splash.  The splash did come and I plunged much further into the pool than I'd expected.  My suit plunged much further than I'd expected as well, and I scrambled to pull it up as I frogged kicked myself to the surface, mildly worried that I could hold my breath that long.
It was fun.  It was scary, but it was fun.  I dove a few more times and then again the night of our gathering.  I was scared every time, but it didn't stop me.  I think about it now when I take a risk.  In most cases, the worst thing that will happen is that my hands will tremble and maybe I'll get a little wet.  But the anxiety always turns out to be worth the thrill.
This canvas is not about summer or my love of Hockney, but about the satisfaction of taking a big leap.